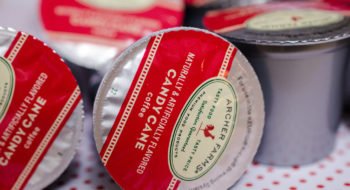 One in three homes has a coffee pod machine in the US, which means a lot of plastic coffee pods ending up in landfill sites.
And all these pods are causing serious environmental problems!
John Sylvan, the man that created coffee pods didn't realize how popular they would become, and how much damage they would cause.
Which is why we need to turn to biodegradable k cups.
But first:
What are the problems with K-cups? Can you recycle them? And what's the best alternative?
All will be relieved soon!
What To Look For When Buying Biodegradable K Cups
You're finally ready to make the switch to biodegradable coffee pods, but you don't know where to start. So, what should you look out for?
Here are the things I look out for before I purchase coffee pods:
Price
For anyone that continually reads my posts, you'll know that price is always on the top of my list. I love a good bargain, And if you love a bargain too then, price should be important to you too. Try to find a brand that offers the most pods for the least money.
Count
How many you get in the pack is equally as important as how much the pack costs. As I said, it's the key to find out if you've found yourself a bargain.
Freshness
If the coffee pods don't seal airtight, it ruins the freshness of the coffee. Make sure you get the freshest blends for the smoother and creamier taste.
Flavor
There are so many varieties of coffee on the market, and everyone has their favorite. When choosing a new brand, it's important to choose something you're familiar with. It gives a higher chance of success when it comes to the final switch.
Decaf
For some people, the effects of full caffeine products are too much, but they still want the taste. Finding a good decaf can be a challenge.
Organic
If you're looking for eco friendly packaging, then surely a nice organic blend will be on your mind. Lower the amount of chemicals you expose yourself to and go organic.
Which Are The Best Biodegradable k Cups?
If you're still struggling to make up your mind and trust me. I know it's hard.
Then here are a few products for you to think about:
Camerons Coffee
Camerons Kona coffee blend comes with six boxes
of twelve single-serve coffee pods. Each coffee pod is 100% compostable.
They use a real coffee filter and certified compostable components but remember it's only for commercial composting.
The pods work for Keurig machines as the company continues to strive for convince. Each pod delivers a high-quality cup of brewed coffee.
The Pods are rich and very flavorful, the Hawaiian blend has hints of chocolate and nuts. The blend is smooth with a light roast, which isn't bitter.
Key Features
Six boxes of 12

100% compostable

Hawaiian blend

Light roast
One person mentioned they tried to cut down the amount of sugar in the coffee. It was made very easy with this blend. It was smooth and light, while
the hint's of chocolate helped to sweeten it
without with sugar. The problem was it only worked with Keurig 2.0, which is a shame if that's all you have.
Overall a nice K cup to get us started, the flavor is great and seemed to satisfy people's needs. Although for the chocolate might make it to sweet for me. It is a shame that it doesn't work on Keurig 1.0 although I guess that's because it's outdated now.
Pros
Rich and flavorful

Compostable

Fairly Sourced
Cons
Not compatible with Keurig 1.0
Tayst Coffee Roaster
You also get the choice between a pack of 30, 50, 100 and 240, so you have no problem with your coffee needs.
The container is 100% compostable and contains no plastic, which is certified by the Rainforest Alliance.
Tayst Pods are only compatible with the Kreuig 2.0, so make sure you watch out for that.
The companies goal is to stop billions of K cups ending up in landfill sites.
Key Features
11 blends to choose from

Rainforest Alliance certified

Comes in packs of 30, 50, 100 or 240

Has a decaf option
The coffee tasted a lot better than other coffee pods, but it wasn't her favorite. She also loved the compostable pods and bags.
It made her feel like she was making a difference
. One person did have trouble with pieces of coffee grounds ending up in the machine, but this seems like a one-off.

It comes with a great selection of flavors; choosing the variety pack might be the best option to start with. You'll get to find your favorite blend. It's also nice to see that it's Rainforest Alliance certified at least we know it's sourced sustainably.
Pros
Great flavor variation

Decaf option

Compostable
Cons
Doesn't work with Kreuig 1.0
Organic Coffee Co.
Each K cup is fully compostable and compatible with both Keurig machines.
Meaning getting your cup of coffee couldn't be easier.
The K cups are made with paper and other plant-based materials.
As for the coffee, The rogers family is on a mission to find the finest Arabica blend Varieties.
They find the richest roasts and the most flavorful coffees. You're guaranteed to find the coffee for you.
Key Features
6 Flavors to choose from

36 in a pack

Compatible with Keurig 1.0/2.0

Has decaf
One customer said the decaf was delicious with plenty of flavor, and they loved the compostable factor. While another complimented it's smooth, light roast with no bitterness. Although one person found the decaf a little week for their taste.

I like this brand the coffee. It's 100% organic, so you know what you are putting into your body. You also get a selection on how many you receive in the pack, perfect for the modest coffee drinker, or a seasoned pro. They also have a vast range of flavors to choose from.
Pros
Great flavors

Compatible with both Keurig 1.0/2.0

Rich roasts
Cons
Decaf was a little weak for some
San Francisco Bay
They have 13 flavors for you to choose from, with breakfast blend being the most popular. Each box contains 80 K cups, which is more than enough.
The coffee pods are compatible with both brands of Keurig K-cups machines and are completely biodegradable.
The compostable coffee pods are single-serve and must be commercially composted.
The single-serve biodegradable coffee pods are great for a delicious and convenient good coffee.
Key Features
13 flavors

80 pods in a pack

Full of rich flavors

Compatible with Keurig 1.0 2.0
One person recommended them by a friend as a sustainable version to usual K pods. The coffee had great notes and tasted great. But,
it was a little too weak at 8 Oz
, he went down to six Oz and it tasted great. Maybe it was a bad patch or maybe they have to up the coffee.
They seem like a tasty brew, you have plenty of flavors to get stuck into, and there's plenty in the pack. It's a shame they seemed a little weak for some people. But, I guess it all comes down to personal preference if you like weaker coffee beans than it might be perfect for you.
Pros
Great flavor range

Compostable

Great value
Faro Roasting Houses
Each pod has a distinctive exotic taste.
The company Faro supports work done by the Rainforest Alliance and is certified accordingly.
There fully compostable pods can be put in your home compost, it needs to be sent to a commercial compost center.
The pods are also compatible with a range of coffee makers.
Key Features
5 Flavors

60 pods

Works with a range of coffee makers

Rich Blends
One person wrote they made the switch because
they wanted to help the environment
. The flavors were rich, and he would highly recommend the product. But, it wasn't all roses. One person was miserable that they couldn't compost the coffee pods at home.
Another great selection of flavors to dig into, 60 pods should be more than enough to find out what flavor you prefer. It's a shame you can't home compost them, but at least you can take them to a commercial center.
Pros
Compostable

Good blend of flavors

Exotic taste
Are K Cups Environmentally Friendly?
The short answer is no, millions are chucked away every day, and I'm sure you can agree this is not doing our environmental problems any good.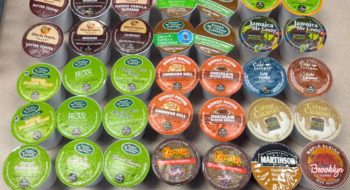 It's thought thatover 75 million K cups are used in homes every day, here's something for shock value:
That's roughly enough to wrap around the world 10 times.
How crazy is that?
The problem isn't just with how many we consume. It's that the pods can't break down, and if they do, it leaves behind harmful chemicals.
You do have a few options if you want to be more environmentally friendly; reduce, recycle (spoiler alert) or go compostable.
Granted, the first options isn't everyone's favorite idea, but the other options are very viable.
Are K Cups Recyclable?
Yes, some K cups are recyclable, and at least recycling them is better for the environment. It significantly reduces the amount of trash sent to landfill sites.
But how do you recycle them?

First open the lid

Empty the coffee grounds and compost them

Clean out the container

Compost paper filter

Recycle foil with aluminum

The plastic part can be upclycled
To help you in the process you can but
separation tool
that allows to separate the components.
But, what if you can't recycle them, but you still feel bad chucking the cups away?
What Can You Do With Old K Cups?
So, you're feeling guilty about using plastic K-cups in your coffee maker, but you still have a load leftover. And I understand recycling them isn't an option for everyone because separating them is difficult.
If this is the case, I have a few things you can do to make old K-cups recyclable and decrease your plastic waste:
1) Paint cups
Kids love to paint, but give them a full tub of paint and your asking for a big problem. Why not use your old plastic K-cups to hold their paint. And the tubs as washable so you can keep reusing it.
2) Seed starter
It's slightly poetic that plastic, something that's doing so much harm, can be used to do something good. With some damp cotton wool and a couple of seeds you can start germinating your seeds for increased success
3) Jello Shots
Hey, don't judge me! Everyone needs a little release sometimes. So why not bring some joy to a party? K cups are a perfect size, and if you're a heavy coffee drinker like me, then you'll have plenty of makeshift shot glasses to go round.
4) Frozen Herbs
Some times when you're cooking, you cut too many herbs, or you need somewhere to store them while you chop something else. K cups are the perfect size to store your fresh herbs, And when you're done, you can freeze the rest ready for next time.
5) Advent Calendar
Spend some time with the kids and make your own arts and crafts advent calendar. You can all create your own cool designs, and fill it with treats of your choice. It's the perfect pre-Christmas activity. Your kids will love it.
Summary
So, next time you're looking for a single serve coffee pod, make sure you go with biodegradable K-cups. But, remember there are a few things you need to think about to reduce your plastic waste.
How many do you get in the pack? If you're a heavy coffee drinker, then you might need to choose a brand with the highest count.
Make sure you check the blend, if you're not sure about a brand, then try something you're familiar with. You're more likely to make a reasonable choice.
I hope that cleared up any questions. If it hasn't, please comment below, and I'll get back to you. Don't forget to hit the share button to let people know what a big problem K cups are to the environment.
If you're a coffee drinker than I'm sure you like an iced coffee, the problem is they come with plastic straws. But you can lower your carbon footprint a much better option of the best metal straws without sacrificing great coffee.