For some, the thought of using ice from restaurants or their ice tray can be an unsavory experience. And it's no surprise there have been multiple reports stating ice is full of bacteria silica gel.
Which makes no surprise that people are turning to a more hygienic solution. By choosing to buy reusable ice cubes, they decrease the risk of ingesting harmful bacteria.
But what materials do they use? And what's the funny gel inside?
What To Look For When Buying Reusable Ice Cubes
Hopefully, by now, you'll have an idea if you want stainless steel, silicon, or stone. And if you don't, then that's fine. You still have plenty of time.
But, before you pick, there are a few things you should consider before sticking it on your credit card:
Price
There's a lot of cheap products out there that will do the job. But, when their cheap there usually filled with BPA plastic and other harmful materials. It's about finding the right balance that suits you. Think about what you need the product to do before purchasing.
Material
Think about the material that's going to suit your needs the most. I mentioned earlier, but what do you need from the ice cube. Long-lasting coldness? Stainless Steel. Something light? Silica gel.
Quantities
Each product will offer you a different deal when it comes to amounts, and it's worth checking out. Some times the price between getting 8 and 10 isn't that different.
Guarantee
If you are unsure you can make the switch, then why not find a pack that offers a guarantee? If you don't like them, you can send them back and try again. And if something does happen to the ice cubes, at least, you're covered.
Machine Washable
Granted, hand washing them isn't that hard. But, if you have a busy lifestyle sticking them in the dishwasher might be your only option. Check with the manufacturer beforehand. You don't want to ruin your shiny new reusable ice cubes.
Shape
The shape of ice cubes varies now. It's not your standard ice cube anymore. Finding a shape that's suitable for your glasses is a must. Try to think about what will work best for your glass/water bottle.
Size
Too big and you'll never fit them in your water bottle, too small, and it won't cool down your drink effectively. You need to find yourself the most convenient size for your needs.
Colors
You have a whole range of colors available, going to a party when not taking some flashing ice cube. Do you want to and some class to your dinner party? Why not get some gold diamonds. You have a fantastic selection out there. It just takes some searching.
What Are The Best Reusable Ice Cubes?
Still Struggling?
I know there are so many choices out there. Luckily for you, I've created a list of reusable ice cubes, and I know for sure there'll be something you like on there. Let's take a look:
Lit Novelties
The LED lights can turn any drink into a little light show and features all the colors of the rainbow.
If the batteries run out, simply replace them.
The ice cubes are made from a waterproof FDA approved material, which means it's food-safe and won't leave a funny taste.
Each cube is 1 3/8 inches x 1 1/4 inches, which can fit in a full mouth water bottle. The cubes also come with a one-year guarantee.
Key Features
Pack of 12

Lights up

Eight colors

FDA certified

1 Year guarantee
One person said they were super cute and versatile; it was perfect for a party and added something special. She also loved that the batteries could be changed so she can use them a few times. The best bit they didn't dilute her drink as ice cubes do.
The colors are a fun idea, but maybe not my style. But, by the sounds of it worked well and delivered a treat at the party. The 100% satisfaction guarantee is very attractive, especially if you're a first-time buyer. It's nice not having to commit, and the opportunity turn back.
Pros
Fit's in wide neck bottles

Flashes

Changeable Batteries
Cons
Batteries don't last long
Kollea Stainless Steel
This, in turn, allows the steel to hold its temperature better than plastic ice cubes.
Because they made with food-grade stainless steel, they won't rust.
The set comes in a pack of 8, which are elegantly packed, so it can be gift ready if needed. It takes roughly 4-5 hours to freeze.
Once frozen, you can use the silicone tipped tongs to remove them from the freezer.
Key Features
Pack of 8

FDA approved stainless steel

Money-back Guarantee

One color

comes with tongs
Overall, people said it was a great little set, they tried a whiskey with and without the ice cubes, and
they couldn't taste the steel
. They also loved the quirky box it came with, although the box doesn't seem very sturdy. He dropped the box on the floor, and now it doesn't shut properly.
I love the beautiful clean look of Kollea's stainless steel cubes, they look and work great for whiskey. As always, the money-back guarantee fills me with confidence. Overall a great asset to add to your kitchen, you'll be sipping cold drinks all day with these in the freezer.
Pros
Gift ready

Colder than ice

Easy to clean
BROTEC
The high-quality whiskey stones are perfect at keeping the temperature of your drink low, without affecting the taste of the Whisky.
It's not just the whiskey stones that are impressive. The hand-crafted wooden storage box looks gift-ready and comes with two beautiful glasses. Not only that, but you'll receive two-place mats for your whiskey.
Perfect if you're ordering presents online.
Thought and care have gone into this product from the diamond shape to the silicone tipped tongs and storage tray.
Key Features
Pack of 8

Food grade Stone

Two glasses and a storage tray included

Dark Grey color

Gift Ready
One customer mentioned that it brought a little bit of glam to the party. They made the drinks
cold and refreshing and served as a talking point
. Although not all the reviews were that good. One person mentioned that the ice cubes didn't perform as she'd like.

I think they look beautiful and would create some conversation at a party. They look great in whiskey and seem to do the job they were intended to do. Best of all, it doesn't dilute your drinks like standard ice cubes. One thing to think about is they look a little big for bottles.
Pros
Unique shape

Made with Stone

Comes with two glasses
Cons
Too big for water bottles
HOFA Ice Cubes
The BPA free plastic is machine washable and should be left to air dry.
You have four colors and designs to choose, Which include, fruit and white frosting.
Each order comes in a pack for 20, which is plenty to start a kitchen collection.
All the non-toxic plastic ice cubes are 1 inch squared, so you have no issues sticking them in a wide-necked water bottle. Look at my list of the best reusable water bottles to find one with a wide neck.
The whiskey stones work perfectly for a variety of drinks, including vodka, juice, and coffee.
And because it doesn't dilute, you can even use it for beer.
Keys Features
Pack of 20

Machine washable

Four colors and designs

BPA free plastic

1 square inch
One person loved how well it kept the wine fresh. One cube was perfect for keeping the glass of wine cool until finished.
Another person wasn't as happy with their performance
. Apparently, it didn't keep her drink as cold as other brands.

I like the variety of designs. There really is something for everyone. The plastic ice cubes seemed to hold up for the majority of people. But, there were a few people that said differently. They really didn't like the performance.
Pros
Easy to clean

Machine washable

Perfect for a glass of wine
Cons
Didn't perform as well as other brands
Vakania Stainless Steel
Each cube is filled with a non-toxic gel, which enables the steel to get colder than ice.
The pack comes with eight ice cubes, all made with food-grade steel, leaving no taste or smell behind.
They're perfect for whiskey drinkers, and they chill without diluting.
There are no sharp or jagged edges for you to harm yourself on.
The pack also comes with silicone tipped tongs, making it easy to insert and remove the cubes from your drink.
Key Features
Pack of 8

Silver color

Made from Stainless steel

Silicone tongs

Easy to clean
This is a relatively new product to amazon, so far, no one has had anything bad to say. It kept their drink cold and didn't dilute the glass at all.
They also complimented there great value
. I'll have to keep an eye out to see if any issues creep up in the future.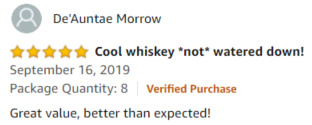 They look good and have classic steel feel to them. The reusable ice cubes keep you drink cold and change the taste. What more could you ask for? I'll keep you up to if any significant issues turn up — overall a great buy, and they're cheaper on amazon then the store.
Pros
Easy to clean

Good price

No sharp edges
What are reusable Ice Cubes Made Of?
When it comes to reusable ice cubes, you have a few options, and each one comes with its own benefits. Let's break down:

Silica Gel – Freezes a lot slower than water, but does perform well in keeping your drink cold. The main issue with this style of reusable ice cube is, the gel inside can be toxic.

Stainless Steel – This is by far the safest option, the stainless steel is made with food-grade materials. Which means they won't leak toxins into your drink. There's one more thing I should explain.

Stone Ice Cubes – Usually made from soapstone, these are probably the least effect on the market, but they do look cool. Whiskey drinkers more commonly use the stones. They don't require it to stay cold for too long.
As always, it depends on your personal preferences as to which one you choose. If you want your reusable ice cubes to last a long time and be toxin-free, then stainless steel is your only option.
On the other hand, stainless steel might to cumbersome. If that's the case, silica gel would be a great option. The only time you should choose stone is if you're a whiskey drinker that doesn't hang around with their drink.
What Are Reusable Ice Cubes Filled With?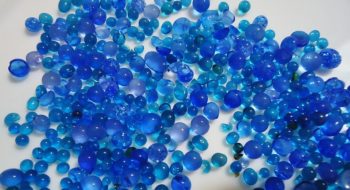 Most reusable ice cubes are filled with silica gel, which in large doses can be toxic.
If large quantities are consumed, it can damage your organs.
Luckily, it's low on the toxicity scale, and the ice cubes only hold a small amount. Don't worry. You'll be fine!
But, be careful not all reusable ice cubes are made with the same materials, some contain BPA plastic, and other's have there own secret gel.
The safest bet is stainless steel. Even if there filled, it's unlikely the gel will ever come out.
How Do You Clean Reusable Ice Cubes?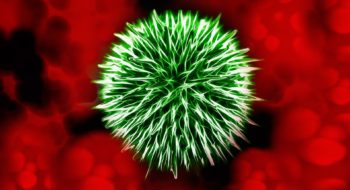 The whole point of reusable ice cubes it to get rid of harmful bacteria, so it makes sense that you'd have to clean them from time to time.
But how do you clean them?
Well, if you're lucky, you might be able to stick them in the dishwasher. But you need to check with the manufacturer first.
Once washed, simply air dry them or dry them with a cloth.
A quick word of warning:
If you have stainless steels reusable ice cubes, then be careful taking them out. They get very hot, very quickly, so don't burn your hands.
With the safety talk over; What if you can't machine wash them?

Wash them with plain water or with a mild soap

Air dry/dry with a towel

Return them to the freezer
Cleaning your ice cubes is easy and effortless,
plus it saves ingesting bacteria from standard ice
cubes.
By now, you should have an idea of what style of artificial ice cubes you want. You even know how to clean them.
But how do you make your mind?
Summary
That's about all I have surrounding reusable ice cubes. But, lets recap what you should look for when buying ice cubes, it might help you make a decision.
Make sure you compare the price with the features it supplies. It's the best way to find a great deal. Secondly, If you're not sure about making the switch look for a set with a guarantee if you don't like them, return them.
Lastly, think about the shapes and colors that might fit your household. It might help you make the final choice.
If you have any questions, don't forget to comment below. I love to hear from you if you have any of these products. I want to know what you thought.
Are you start to get a build-up of plastic produce bags? Well, it's probably time you got yourself one of the best reusable produce bags.