Flavors
French Roast, Fog Chaser, Rainforest Blend, Breakfast Blend
Knight Dark Roast, Duke Medium Roast, Noble Extra Dark Roast, Variety Pack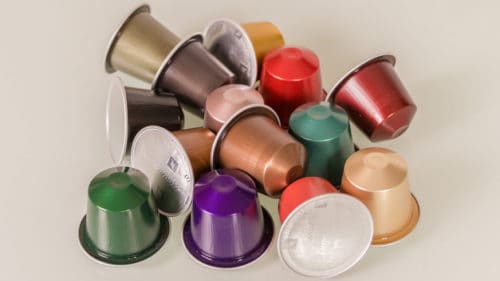 Recently K-cups have been put on the firing line due to their un-
biodegradable
nature, which has led to some major cities banning the sale of coffee pods.
And this has left people wondering how to get their next coffee fix. Coffee pods became popular due to their easy to use nature.
But what people weren't expecting is the damage this would cause. Luckily we have don't have to give up our drinking habit yet.
Biodegradable coffee pods have busted on to the scene as an answer to our prays. Now we can still enjoy a morning cuppa without having to feel guilty about it.
So, today I want to talk you through everything you need to know about biodegradable pods, from what to look for to answering some of your burning questions.
Sound good?
What To Look For When Buying Biodegradable Coffee Pods
In this section, I'm going to provide you with everything you need to make an informed decision about your next coffee brand:
Price
No one likes overpaying for a product, which is why I'm always looking for the best deal. You need to compare the price with the number of pods you receive.
Quantity
If you're a heavy coffee drinker like me, then the chances are you'll need a large pack of pods, which is why I always make sure I order the most significant pack size.
Flavors
If you like having a selection of flavors to choose from, then you need to make sure you pick up a variety pack this way you don't have to have the same taste every day.
Compatibility
Different coffee capsules will fit different machines, which is why this step is so important. Before you make any purchase make sure everything works together.
Decaf
It's not always the time to pump yourself full of caffeine, or maybe you just prefer the taste rather than the effects. Either way, you should check you have the option.
Freshness
There is nothing (well almost nothing) better in this world than a fresh cup of coffee, which is why I always like to check out their freshness rating provided by the supplier.
Which Are The Best Biodegradable Coffee Pods?
I understand that not everyone has got the time to get out there and research the brands; it's very time-consuming. But that's why I'm here.
So, what pods are biodegradable?
SF Bay Coffee Variety Pack
You have a couple of buying options; you can opt for an 80 count or 120 count.
The best part is everything is 100% compostable, from the packaging to the pods.
The pack features four coffee blends for you to enjoy, this includes French Roast, Fog Chaser, Organic Rainforest Blend, and Breakfast Blend.
Each one of the pod provides exquisite single serve coffee every time, which I put down to the 100% Arabica beans.
The capsules are made using a blend of plant-based materials; this allows it to be certified compostable by BPI.
And that's not the only certificate in their arsenal, they are also certified as Kosher coffee beans. The San Francisco Bay coffee beans get sourced from Central and South America.
Key Features
Certified BPI compostable

Four Flavours

80 or 120 count size

Plant-based ring
After finding some k-cups to be watery, they were very impressed with the flavor provided by San Francisco Bay.
The Brew was strong, and the flavors were rounded and bold
. Their biggest downfall was having to store them in an airtight container instead of their carousel.


Overall this a very eco-friendly alternative when compared to plastic pods. The flavors are excellent, and unlike plastic pods, they don't leave a funny taste in your mouth. Each pod is perfectly designed to fit in your K-cup coffee machine, which means you won't have any troubles with compatibility.
Pros
Great price

Eco-friendly

Very Tasty
Joe Knows Coffee: Tall, Dark, and Handsome
Each pod is compatible with 2.0 brewers, so you won't have too many issues with compatibility.
They're a part of the oldest roasters in the midwest and use coffee from Kenya and Costa Rica.
They only use 100% Arabica green beans to produce their product, which should be stored in an airtight container and out of direct sunlight.
The brand got certified as an organic roaster by the Rain Forest Alliance and as a Fair Trade partner. With each cuppa, you can tell it was created by experts that care about coffee.
Each pod contains 11 grams of coffee, which is plenty to get you going in the morning. One thing to note about these pods are, they're only 50% compostable.
Key Features
Made with Arabica Beans

Compatible with 2.0 brewers

Certified by the rain forest alliance

Pack of 40
After looking for a replacement for their Starbucks dark roasted beans, they had finally found this brand.
The flavor was great, and they loved the design of the single-serve pods
. Other people had a similar experience with the coffee; they couldn't have been happier.
Overall the coffee is excellent, but I do have a problem with the pods, firstly they are not 100% compostable pods. They have a substantial plastic ring around the outside of the pods. Apart from this, the coffee is excellent, and they do create less waste than traditional pods.
Pros
Packaging keeps the coffee fresh

Eco-friendly mesh

Great taste
Beaniac Organic Full-On French Roast
Their aim was to be compatible with Keurig and other k-cup brewing systems, yet remain eco-friendly and sustainable.
To do this, they made plant-based pods, which eliminated the need for plastic. This means these coffee pods are 100% compostable.
The brown ring is made using Coffee Chaff, which in most cases gets discarded as waste, the mesh, on the other hand, gets made with plant-based materials.
This means within a commercial compost setting; these compostable pods will dissolve to nothing, leaving no toxins behind. Each pod houses a premium dark roast that provides quality in taste and aroma while othering a smooth flavor.
Key Features
100% Compostable

Made with Arabica beans

Compatible with most brewers

72 coffee pods
For most people, the coffee was delicious; it provided a great roast with a rich and bold flavor.
They felt you got exceptional value for money in each pod
. The best part was the k cups were compostable, so they knew they weren't damaging the planet.


Overall the coffee is excellent tasting and offers plenty of flavor from each pod. The product is also very eco-friendly due to the organic nature and compostable packaging. Another attractive quality is the price when you compare it to how many pods you receive.
Pros
Great value

Organic coffee

Stays fresh
Cons
Individually packed in plastic
GLORYBREW – The Knight Dark Roast
These pods are made entirely from bio-based materials making it more eco-friendly than most other plastic brands.
The ring gets made with compostable materials, and the mesh is made with bio-based materials.
They claim the pods will break down after 7/8 weeks after composting, which means they hold up with BPI ATSM D6400 standards and testing.
The Rainforest Alliance certifies them for the coffee being sustainably grown and sourced.
You have two sizes to choose from, either 36 or 72 pods. And that's not it; you also get four flavors to pick from, including Duke Medium, Noble Extra Dark, Knight Dark, and more. GloryBrew guarantees their product will leave you 100% satisfied.
Key Features
BPI certified

Made with plant-based materials

Four flavors

36 or 72 pods per back
One customer was using these pods with their iCoffee maker, it worked perfectly, and after the second box, there was still no coffee grounds arriving in the cup.
They were also very pleasantly surprised by the flavors of the pods
.


In my opinion, the medium roast is excellent and full of flavor; they even had an extra dark roast for people that like a bit more bite. The whole design is very eco-friendly, which fills you full confidence they will biodegrade in a reasonable duration of time.
Pros
Plenty of buying options

Great medium roast

Highly compatible
Cons
Problems with pods bursting
Boyd's Coffee Organic Red Wagon Coffee
Their coffee is certified organic by the USDA and uses a blend of 100% Arabica coffee beans.
The pods are also 100% compostable from top to bottom; the lid is made from paper, the ring from coffee chaff, and the filter is bio-based.
The bio-based filter allows the waters to saturate the ground Arabic coffee beans providing you with more vibrant and better-tasting coffee.
Each pod gets wrapped individually to ensure freshness, and the resealable foil pouch locks in the freshness.
This bulk pack provides you with six boxes of twelve pods, so you have time to enjoy your coffees without having to rush through the package. The best part about these pods is they are entirely free of all synthetic chemicals and additives.
Key Features
Six boxes of 12

USDA certified

100% Arabica coffee

Fully compostable
For one customer, this was the best coffee they had brought for their Keurig coffee maker.
The flavor had chocolatey notes with a nutty undertone
; they also felt it wasn't too acidic compared to other brands. But their favorite part was the compostable nature of the coffee pod.


Overall they produce a great coffee, and the pods are compostable, which is perfect. The one issue I had is each coffee pod is individually wrapped. In the end, this takes away the novelty of being biodegradable. Other than that, the product is excellent.
Pros
Great price

Bold flavor

Compostable
Are K-Cups Biodegradable?
No, k-cup pods aren't biodegradable, this is because of the materials that get used creating the k cups. They are made with plastic, which, as we all know, is not compostable.
One thing to note is they can be recycled, but this requires you to split the pods down.
The problem is recycling centers won't take k cups unless they've been split down first. This is to stop cross-contamination. If you want to recycle your k-cups, then there are a few easy steps you must follow.
Clean the foil lid, and place in the metal recycling
Clean out coffee grounds and place in the compost
separate the plastic by using a splitting tool
So k-cups aren't biodegradable, but what about Nespresso capsules?
Are Nespresso Pods Biodegradable?
Unfortunately, just like a k-cup, Nespresso coffee pods aren't biodegradable either. The thing is they're made using aluminum, which can't biodegrade. Luckily these pods can also be recycled by following this guide or watching this video.
As you can see, it really isn't a laborious process, but it does take a little extra effort on your part. But hey, no one said saving the planet would be easy.
Are Compostable Coffee Pods Really Compostable?
In most cases, yes, compostable pods like the San Francisco bay onecup pods really do compost. The problem is some companies claim to be biodegradable, yet they use a plastic ring.
So what do you do?
Your best option is to check for a BPI certification; this way, you'll know this way you'll have no doubts that your coffee pod will biodegrade.
Summary
That's about it for today, but before we leave each other, there are a few things I'd like you to take away with you.
The first thing is to remember some manufactures are only after a quick buck and will tell you anything to make the sale. Which is why it's so important you check they are biodegradable.
The next thing is to check they're compatible with your coffee maker. There's nothing worse than waiting for your coffee to arrive only to find out it won't work in your coffee machine.
If you follow my buyers' guide above, you'll have no trouble finding the right pod for you. If you have any questions, please feel free to comment below so I can get back to you.
In the meantime, why not check out some more eco-friendly ways of enjoying your morning coffee with a reusable coffee filter?