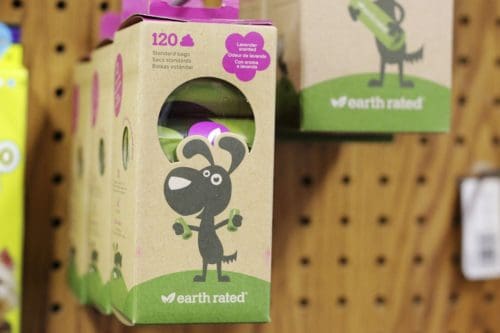 Poop bags are a plastic item that often gets overlooked.
But it can cause serious harm to the environment, which is why we need to start looking at biodegradable dog bags.
The problem is there are a few things you need to watch out for.
Today we're going to walk you through everything your need to know the poop products and what makes the very best poop bag.
If you want to fall in line with all the other responsible dog owners, you should read on to find the best pet waste bags.
What To Look For When Buying Biodegradable Dog Bags
If you're looking to make a switch to biodegradable doggy poo bags, then there's are a few things you should consider.
And below I'm going to show you precisely what these things are:
Price
The price of poop bags can vary depending on how many you get, what material is used to make it, and in most cases, the brand. Before you make a purchase make sure you have a budget in mind, this is the best way to avoid overpaying.
Size
If you have to deal with a big doggie poop every day, then you'll understand the importance of having a correctly sized bag on your hand. There's nothing worse than getting your finger caught in the overflow, make sure you check the bags are large enough to avoid this hassle.
Quantity
If you're trying to work out if you've grabbed yourself a bargain, you need to compare the price with the quantity you receive. It also gives you a good idea of how long the poop bags are going to last for, the last thing you want is to run out too quickly.
Material
Try to check out what material the bags get made with, some materials can be pretty thin (I'm sure you can see the problem here), which doesn't make them ideal. Others can leak quite rapidly once exposed to dog waste. Try to find a durable yet biodegradable material.
BPA-Free
Finding biodegradable bags is a great idea, but not if they're pumped full of harmful chemicals. This is why double-checking the bags are free of all chemicals is so beneficial. You'll be surprised by how many "biodegradable" bags are out there which have BPA inside.
Packaging
There's this weird thing were manufactures make biodegradable/compostable products, but then wrap it in plastic. This is why I always check the packaging; this way, you can minimize the amount of plastic that comes into your home.
Which Are The Best Biodegradable Dog Bags?
I understand it's not easy to find something that matches all of the above qualities, but I've done my best.
Below you'll find a list of some of the best dog poop bags on the market:
Doggy Do Good Biodegradable Poop Bags
The bags are unscented, so you don't have to worry about any harmful chemicals being inside.
The poop bags are 13.4″ x 11″ x 2″ when open, while the material is around 0.8 mm thick.
Each bag can hold half a gallon or 2.5 QTS without breaking, tearing, or ripping.
The bags get made with a vegetable-based (Corn starch) biopolymer. This means the bag can break down in 90-days from being discarded in the right settings.
Their packaging is made using recycled materials, which makes it suitable for the environment compared to plastic.
You'll receive 60 bags in the pack, which works out as six rolls of 10 bags. With each purchase, Doggy Do Good, will donate a portion of the profits to an animal shelter.
Key Features
Made from corn starch

Thickness: 0.8 mm

Size: 13.4″ x 11″ x 2″

Hold half a gallon

60 bags in total

biodegrades in 90-days
They loved them so much they were just about to order another package
. The fact the bag was biodegradable wasn't the only reason they liked them. One bag was large enough and strong enough to hold several loads of dog poop without it splitting.
The sizing is excellent; it's suitable for all kinds of dogs, big or small. Another important factor is they are effortless to open, which any dog owner would appreciate. And I suppose the best part is they will decompose within 90-days of being discarded.
Pros
No microplastics

Huge size

Open easily
Cons
Needs industrial composting
Earth Rated Dog Poop Bags
The robust doggy poop bags measure at 9″ x 13," which is more than enough room for multiple loads.
The bags are leakproof, which helps to keep your hands safe when you need it.
In one box, you'll receive 60 bags, or four rolls of 15 bags, this means you don't need to carry them all with you.
The packaging and the roll cores are made with recyclable materials. Each bag is made with a vegetable starch-based material, which is easy to open and certified compostable by BPI.
They don't scent their poop bags, so they don't leave any toxins behind when the biodegrade.
And to make sure the rolls don't unravel in your pocket, they use a newly designed sticker, which is easy to lift and doesn't tare the bags. One this to mention is they must be composted where dog waste is accepted.
Key Features
60 bags in the pack

Certified compostable

Size: 9″ x 13″

Made from a vegetable-based starch

100% leakproof

Recyclable packaging
They had decided to purchase this brand after realizing the other bags didn't decompose.
They felt slightly thinner than what they were used to
, but we're happy with the results. Their biggest gripe was the price; it was a lot more expensive than their plastic bags.

The bags were great, and even though they were unscented, you could not smell any poop when the bag was closed. The bags were easy to open and could hold hefty loads without tearing or splitting, and it broke down, unlike plastic poop bags.
Pros
Free of plastic

Good capacity

Very strong
Cons
The new formula not as good
Greener Walker Poop Bags
The bags are 100% leakproof, so your hands stay safe while you pick up the dog foul.
You have two colors available, green or brown, but don't worry; the color doesn't change its compostability rating.
Each bag is 13″ x 9″ so you have plenty of room to scope up the poop with. The bags are also extra thick and easy to tear off.
They're made using a corn starch blend, which isn't just better for the environment; it's also a lot more sustainable.
When you compare the price with the quantity you receive, it's clear to see what great value they are. Lastly, all there packaging gets made using recycled materials.
Key Features
Pack of 540 bags

Extra thick

Compostable

Size: 13″ x 9″

Two colors

Made with corn starch
What Other People Say
One customer was delighted with how easy it was to open and tear off the bags; it really helped while out on a walk. Another benefit was it could fit in most poop bag dispensers, they just slotted straight into the casing. Lastly, they were thrilled with the price and how many you received.

Overall the bags are perfect; I loved how many you got for the low price. Each bag is a good size and very easy to open. The poop bags were also pretty thick, and this filled you full of confidence when picking up a heavy load. I was delighted with the quality.
Pros
540 bags in the pack

Doesn't leak

Great value
Cons
No ATSM D6400 certification
UNNI 100% Compostable Dog Poop Bags
Each bag is 9″ x 13″ and has a thickness of 0.8 mm, which gives you plenty of room and peace of mind that the bag won't split.
They're made using plant starches, so they contain no polyethylene.
This makes the bags very compostable and meets the requirements for ASTM D6400 status.
It also meets the standards set by the OK Home Composting, which means it's fine to be composted at home.
The bags are unscented, yet they don't release any foul smells when the bag is tied. Storing the bags must be done correctly; if not, they won't last long. They should be stored in a cool and dry place; once purchased, you have a year to use them.
Key Features
Made from plant starch

Unscented

Home compostable

Size: 9″ x 13″

Thickness: 0.08 mm

Pack size: 120 or 270
After feeling guilty about using plastic poop bags, they deiced to make a switch to biodegradable bags.
This was an excellent way for them to feel less guilty
. They also loved that you could buy them in bulk, which meant they got it a little bit cheaper.


If you're looking for an eco-friendly alternative than look no further, these biodegradable poop bags can be composted in your garden. The large and sturdy dog waste bags don't leak, which is excellent news for your hands. It also means they can be used for cat litter as well as dog poop.
Pros
Leak-resistant

Home compostable

Good quality
Cons
Can biodegrade too quickly
Give A Sh*t Compostable Dog Poop Bags
The biodegradable poop bags are made using a vegetable starch, which means it's good for the environment.
The materials are ethically sourced and made from 100% botanical plants.
They predominately use corn starch as their compostable polymer.
This allows their products to meet TUV Austria home composing certificate and reaching ASTM D6400 and EN 13432 status.
To make sure they stay in touch with the eco-friendly nature of the poop bags, the brand uses recycled materials to make the product's packaging.
To show you they care about our furry friends; they donate 10% of all their profits to the Soi Dog Foundation to help stop the suffering of animals.
Key Features
Size: 13″ x 9″

Home compostable

Made from cornstarch

120 bags

Unscented

Donates 10% to charity
They were indeed the best bags they had owned. Over their years, they had used countless amounts of dog poo bags,
but they recommended these over all else
. It was great how eco-friendly the poop bag is and how much dog waste it could hold.
As the name suggests, Give A Sh*t really does give a shit; their poop bags are excellent quality, and they donate 10% of their profits to charity. Another nice touch was the little arrow that showed you which way to open the bags. Its the attention to detail that really makes these bags stand out.
Pros
Easy to open

Strong

Plant-based
Are There Any Biodegradable Dog Poop Bags?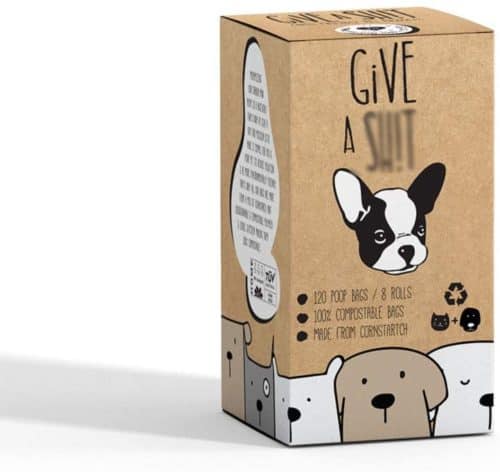 You have plenty of options available if you're looking for biodegradable bags.
Companies like Give A Sh*t and Earth Rated make all their poop bags with plant-based starches.
They also use recycled materials in their packaging and core roll.
This helps the waste bags keep their environmental impact low while you clean up your dog waste.
The dog waste bags will biodegrade after a few months leaving nothing but nutrient-rich soil.
With the ban on plastic bags looming other all of us, it's time to start looking for a compostable version. Soon it will be the only bags you can get, so why wait?
By switching to a biodegradable waste bag, you can stay ahead of the trend.
Are Biodegradable Poop Bags Really Biodegradable?
For the most part, yes, biodegradable bags really can biodegrade.
The problem is some manufactures take advantage of the word biodegradable.
This results in people buying their little green bags, thinking what they are doing is helping the environment.
The thing is:
This isn't always the case, due to there being unregulated guidelines people have easily duped into buying poop waste bags that just don't biodegrade or at least not safely.
How Long Do Biodegradable Dog Poop Bags Take To Decompose?
A biodegradable poop bag will take around three to six months before they fully decompose.
And let's face it, that's a hell of a lot better than normal plastic products. Of course, the time can vary depending on a few factors, which include:

One thing you should try to look out for in a waste bag is an
ASTM D6400 rating
; it's the only way of knowing if the products are compostable or not.
Conclusion
That's everything you need to know about poop bags, but the most important thing to remember is to check for the ASTM rating; without it, you'll really have trouble when it comes to composting side of things.
Other than that, you'll be fine as long as you follow my buyers' guide.
If you have any questions about biodegradable bags, feel free to comment below, and I'll get back to you.
In the meantime, why not find out a little more about biodegradable plates, it is BBQ season after all!